This Page is very graphic intensive. Please allow time to load!
WDWCP Journal - Entry #4

My Vacation...

Wow, all I can say about my whole vacation is that it was a blast!!! I'm just going to put pictures up on this page, and a description of what is going on in each of them, and that will be my vacation story!
Look! Oh my goodness! It's Rafiki!!!! He's my favorite character! (He was the first to sign my hat) I didn't even see him, and I would have missed him completely if my dad didn't say, "Jessica isn't that the one you like?" Rafiki was over by The Enchanted Tiki Room - Under New Management, and I guess I didn't expect to find him in the Magic Kingdom. (I was thinking Animal Kingdom) I was so excited! I still think I'm in shock!
Yep, here it is, the picture of me and Mickey (soon to be my boss!) A Disney page can't exist without this picture!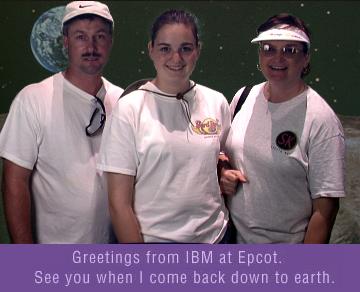 This was taken at Innoventions at Epcot. We searched both Innoventions East and West to find this booth. It was an internet postcard that we sent to my sister, who couldn't go because of school. This was cool, and you could tell we were excited to try it out. Of course, I think my sister deleted it cause she didn't know who the email was from. When we got home, I think I sent this picture out to everyone I know (even my little sister again!) I like this picture because it shows my family the way we were that whole vacation...smiling!
One of the things that stick out so vividly in my mind right now would be waiting for Fantasmic! at Disney-MGM studios. We were some of those crazy people who take our seats an hour and a half before the show starts. About a half an hour before showtime, we were all getting a little fidgety, so my dad gets this idea to start the wave. (you know, like you do at football games!) It took six or seven tries, but I swear to all of you, the entire crowd was participating, and before long it seemed to have a mind of its own. It was a good way to kill about 20 minutes, because then this guy came out to entertain us. And then, POOF! it was time for a great show!
Another great memory is during the Tapestry of Nations parade. The metal-looking puppets were walking by and I wanted a picture, so I got kind of in the street, and just as my mom took the picture, the puppet touched my head. It was so awesome.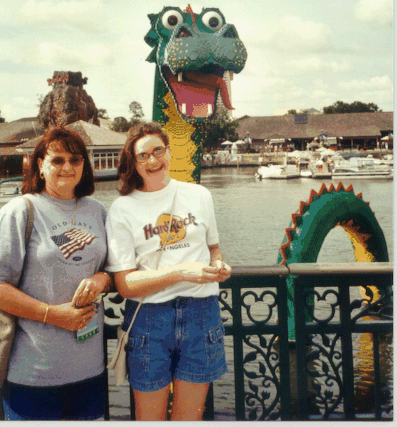 Look! It's me and my mom in front of the Lego monster at Downtown Disney. This was cool because I've always been a fan of Legos and I still build with them when my cousin Zach comes over!

Wanna know what happens next? Well then, all you gotta do is go to my On The Road page!
Or you could go back to the table of contents for my journal.
Still, you could choose to go back home.