WDWCP Journal - Entry #7

Traditions

Oh my goodness what a day! I don't think any more information will fit into my brain. =) My facilitators yesterday were Brain and Steven. There was a pretty big group, so I sat with a table of strangers. Melissa, Kristina, and Steven were all very nice and we all talked for a while. The information that was presented was amazing, the companies that are owned by Disney, all of the different things that are expected of us as cast members, and just lots of other random stuff. One of the forms that I filled out on check-in day is a confidentiality agreement, so this page will not be as detailed as everyone wants (I will not be terminated because of this web-page, I want to be able to stay to I can find out a lot!!) I did win two figurines (a Mickey and a Tigger) for volunteering to read and answering a question. I was really tired, so I had to fight to stay awake, some of the videos were pretty out-there. There were lots of opportunities to meet people, and after we had been introduced to the basics of working for Disney, we all met for a general introduction to Epcot. After learning when our Discovery Day was, our day was over. We went to the guys' apartment on the first floor to a "Survivor" party for the final episode. Somehow I had found out that Rich was the winner and no one in the apartment believed me. Of course, now that everyone knows, I was right. After that, we all crashed to the apartment because Kerri, Jill, and Megan all had to get up early the next day.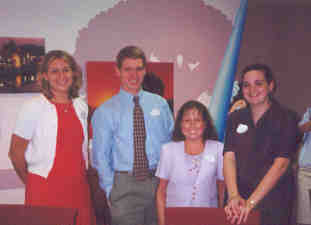 This is the group that I sat with during Traditions. From left to right are - Kristina from Biloxi, MS - Steven from Lexington, KY - Melissa from Commack, NY - and Me!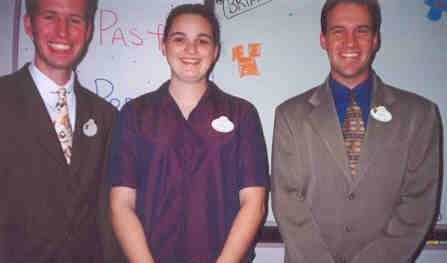 These are my facilitators, Brian and Steven. These two were absolutely crazy. When I asked if we could take this picture (and I apologize for the terrible quality - I didn't take it) they immediately turned to each other and adjusted ties and straightened hair. It was these two that kept the group awake.

Wanna know what happens next? Well then, all you gotta do is go to my First Night Out page!
Or you could go back to the table of contents for my journal.
Still, you could choose to go back home.