WDWCP Journal - Entry #28

Happy Thanksgiving!

Wow, my first Thanksgiving away from home. I had to work from 9:30-3:30 - which is pretty lucky considering I could have closed. Work was really weird, it was dead, then slammed - but it was work all the same. Erica came in today to say goodbye to everyone, she was leaving, and it was good to see her one last time. I called Kerri at home, she had the day off and was going to make the turkey, she wanted some sweet potatoes too. So I called my mom for the recipe on my break and after I clocked out I headed to Wal-mart for some last minute stuff. It wasn't too busy, and I got home an hour after I would have had I not gone out. I got home and started on the sweet potatoes, Kerri headed out for a couple of things she forgot for the Turkey (that was her responsibility). As the potatoes were baking, I made a cookies and cream pie for desert (I know it's not traditional). Then Kerri came back and she started on the Turkey, which we named Clarence. Jill came home and started on the broccoli. Then Drew came over and he and I started peeling potatoes for mashed potatoes. When it was all done, we had turkey, mashed potatoes, sweet potatoes, stuffing, broccoli, cranberry sauce, gravy, pumpkin pie, and cookies and creme pie. It was all so yummie and good, I think we'll be eating forever!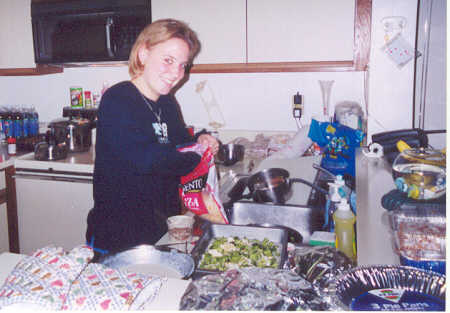 Jill making her broccoli stuff, filled with cheezy goodness!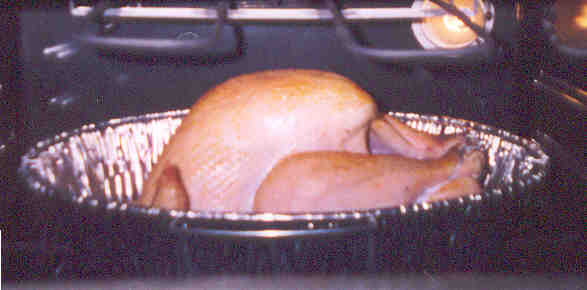 This is a picture of Clarence, our turkey, basking in the warmth of the oven.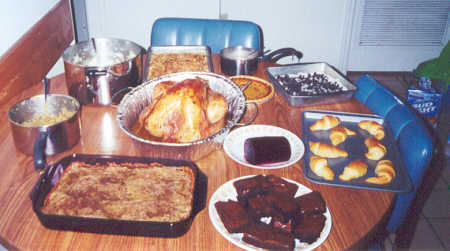 Our Wonderful Thanksgiving Spread. Yummie!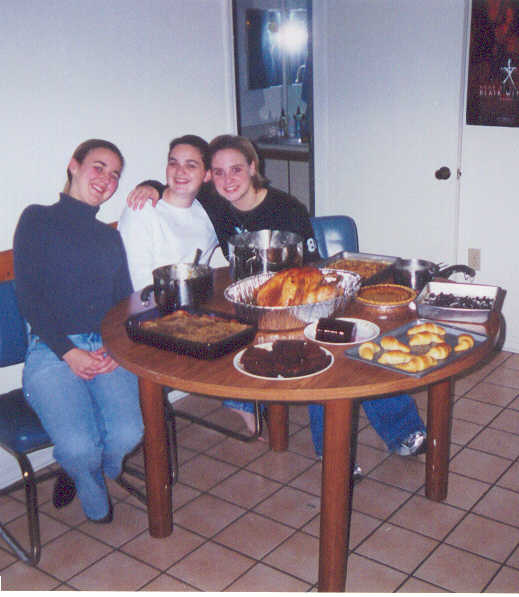 Wanna know what happens next? Well then, all you gotta do is go to my Bye Jilly =( page!
Or you could go back to the table of contents for my journal.
Still, you could choose to go back home.