WDWCP Journal - Entry #8

First Night Out

Last night was our apartment's first trip out to Pleasure Island. We all met at our apartment and talked for a while about what we wanted to see when we got there. After learning that a driver's license is required to get in, we had to sweet talk the guy to let me in! Then we went to the Beach Club and everyone had good ol' laugh because I knew the words to "The Real Slim Shady" the little West Virginia girl knows words to a song that's not country-western!! Na, it was cool, cause I was laughing too. Then we all went to 8-Trax, which plays 80's music. It was crazy to see all these college kids screaming along to the cheesy 80's songs that went out of style long before the 90's started. It was a great time. Megan, Jill, Jay, Kerri, Mike, Jeff, and Andrew, and I were all going crazy. We got home around three in the morning. Kerri, Mike, Jill and Jay were all up till about 5, but I went to bed when we got home, because my Discovery Day started at 9:00 that morning. The night was crazy, and here are some pictures of the good times!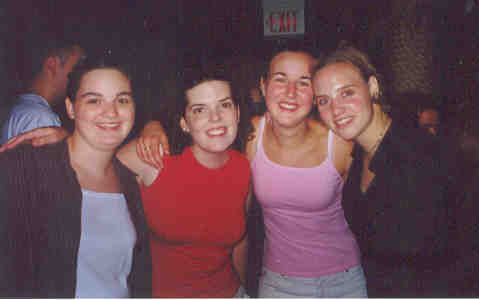 This picture was taken at the Beach Club within the first 5 minutes we got to Pleasure Island. L to R - Me, Megan, Kerri, and Jill. We didn't stay at the Beach Club much longer after this picture was taken though.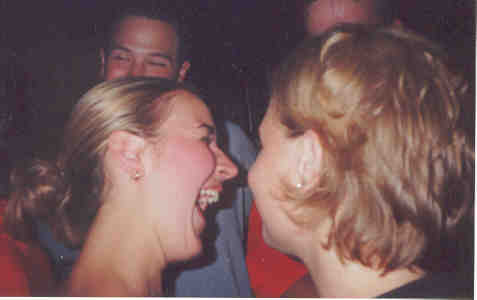 This is the greatest picture of all time. This is one of the chosen few that have graced our refridgerator. Kerri and Jill were dancing at 8-trax and it was too good of a moment to let the camera be forgotten! There's not much to explain, just a good picture of the great time that we have a PI!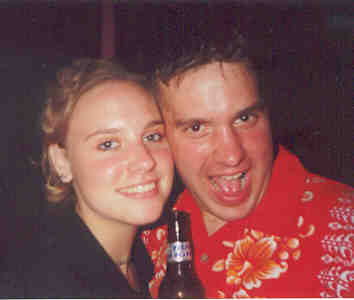 This is a picture of Jill and Jay. Jay lives on the first floor of our building. Jay is a really nice guy, and he's kinda sweet on Jill.

Wanna know what happens next? Well then, all you gotta do is go to my working page.
Or you could go back to the table of contents for my journal.
Still, you could choose to go back home.